There's something fabulous about reading and doing laundry...

One of my more repetitive motions through Berlin is from my home and studio in Wilmersdorf, to the laundromat on Uhlandstrasse and Pariserstrasse, and then to the Universität der Künste/Technisches Universität main library on Fasanenstr. For the many others who have spent a good amount of time at this library, they would probably agree that it's not the most hospitable space for those who would love to sit down and comfortably read. During wintertime, I would take the bus back from the Zoo to the laundromat and finish my load with my new books. However, when weather permits, I take my finds into the Tiergarten. As the weather gets nicer, this route becomes even more emphatic and pleasurable.

The transition from the quietude of Wilmersdorf to the energy of Ku'damm is pretty intense, no matter how many times you take this route. The scale of the street changes dramatically and the volume of people, light and sound exponentially increases. There is the same accordion-player in front of C & A playing "La Vie en Rose." It's great whether in the dead of winter or when the Tiergarten is blooming.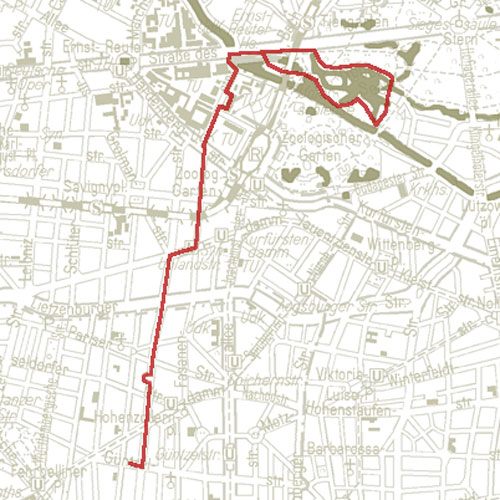 Buchgarten
submitted by EF, 24 year old female architect
3 hours, on foot (summer) or bus (winter), once a week