This is my way to work. I always ride my bike, except if it rains or snows. The route by public transport is terrible. By bike though it's a nice trip from East to West. As if I was riding to a different city. In the morning between 8 and 9 many bike riders and hectic car drivers are out and about: one should be cautious and possibly wear a helmet, especially if riding fast.

If you pay attention to everything along the way you have seen quite a lot of Berlin: the famous Kaisers supermarket at Winsstrasse. Having coffee in front of ducks and cats. The beautifully overgrown cemetery at the end of the road - for sale as building site: meant to bring money in for the church. Down Prenzlauer Allee. Masses of riders....its best to ride right in front and away. Alexanderplatz to the left. A commercial cathedral. The palace (of the republic) about to be torn down. Berlin builds itself a castle.

The Lustgarten to the right, the Museum island beyond. Unter den Linden: no tourists in the morning. Through the Brandenburg gate, still straight ahead, Strasse des 17. Juni, Siegelsäule (bad traffic lights). Turn left at the Burger King in the Berlin pavillion at S-Bahnhof Tiergarten. Winding through the Tiergarten past the Schleusenkrug towards Zoo. When Knut was born: people waiting in endless lines in front of the entry. Turn right onto the Ku'damm then. Busy. Then right into Knesebeckstrasse and right again into Mommsenstrasse. Arrival in Charlottenburg - the idyllic West. Like a different city. Shops, strolls, holiday feeling. I take the way home via Savignyplatz towards Steinplatz past the University of the Arts and through Fasanenstrasse back along the city axis. On sunny days you can ride through the Tiergarten. At the Brandenburger gate you are photographed by all the tourists.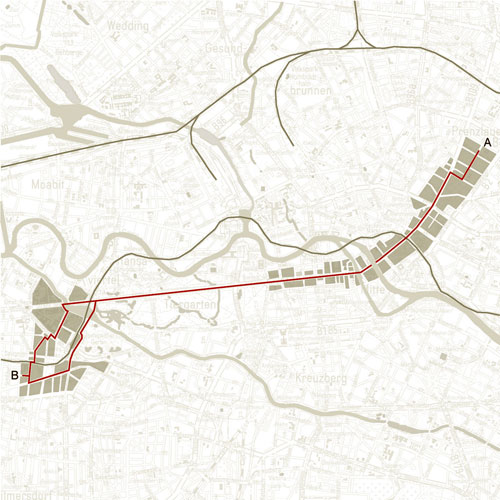 IL
submitted by IL, 30 year old female
30 min, bicycle, workdays