ABOUT rePLACE
x
The rituals of everyday life trace regular paths along streets and through buildings, organising the solids and voids of the built environment into narratives and patterns of association. Complicated by memory and social rituals, our experience of the city is of a dynamic place, a stage for public performances and private tragedies, of significant moments and the incredibly mundane. The habits, rituals, and actions of its population, the lived experiences within the city define it as something that is always current, always in constant, random movement.

rePLACE BERLIN begins by a public invitation to reconsider the city as an active process of documenting time and place inseparable
from our everyday, lived experience. Your participation is requested as a singular contribution towards an alternative, collective understanding of how the city both literally and metaphorically vibrates, or where 'the beaten track' runs rich with/counter to personal knowledge, memory and cultural myth.

Anyone located in Berlin can participate by mapping out a frequent route from their day-to-day life, recording the regular patterns and particular moments associated with this journey. Simply follow the instructions to upload your route as well as text, images, video and/or sound documenting observations and discoveries made along the way. You can also take part following a 'tour package' prepared
by someone else. Simply download the PDF map of any of the routes already uploaded and retrace someone else's everyday ritual.

Through the various stages of the project, rePLACE seeks to provide a way to understand the city, not only through its built spaces, but in the ways its residents are interacting with it in their daily lives——the routes we follow and the moments where these routes cross, overlap and run parallel or tangent to each other. This is foremost a reconsideration of history and image-making outside of our traditional understandings of these terms, where forms of heritage preservation can go beyond passive historicisation and generate living processes to actively celebrate the city-in-flux.
--
rePLACE is a project initiated in 2007 by PROGRAM and Transit Lounge. rePLACE BERLIN and rePLACE BEIRUT are supported in 2011 by the Anna Lindh Euro-Mediterranean Foundation for the Dialogue between Cultures, Prince Claus Fund for Culture and Development, the Arab Image Foundation and PROGRAM. rePLACE BEIJING is supported by HomeShop. For more information please contact: mail[at]re-place[dot]info


WORKSHOP
x
In June 2011, rePLACE organised a workshop at PROGRAM - initiative for art and architecture collaborations to artistically research and investigate the routes submitted by rePLACE BERLIN participants. The online collection of 'personal tours' served as the jumping off point to (re)experience the city via the stories and routines of the people living here, creating a series of visual and historical investigations into the modes and interactions between the the city's inhabitants and the city itself. Workshop participants traced the submitted routes, documenting and recording with video, photography and sound their observations as led through the words of the various guides, and selected points from certain routes were chosen as 'landmarks' for further research and elaboration.
The workshop was accompanied by a public program including discussions and screenings.



workshop participants // Heba Amin, Jan van Duppen, Isabel Falleiros, Elizabeth Feder, Fiona Geuß, Sabina Grasso, Anna Kostreva, Fotini Lazaridou-Hatzigoga, Hans Pul, Brigitta Wagner


In Situ, Out of Place
a film/video evening
June 23, 20:00, PROGRAM

In Situ, Out of Place shows four journeys through different parts of Beirut—each revealing the inextricability of the city's history from its present stories, alienating scenarios in familiar environments.
Selected by Daniel Berndt in conjunction with the rePLACE project.

Red is the Colour of my Eye
Nesrine Khodr, 2000, 23 min / Arabic with English subtitles
Red is the Colour of my Eye tells the stories of two concierges working at two different buildings that face one another on Hamra street. By way of the passing traffic and views on the people coming in and out of their buildings, Abu-Adel and Abu-Youssef guide us into the time and space of the street, sharing their accounts of memory and territoriality.
 
My friend Imad and the Taxi
Olga Nakkas & Hassan Zbib, 1985/2005, 19 min
In 1985, Hassan Zbib and Olga Nakkas started filming with their Super 8 camera scenarios of a surreal figure walking through the streets of Beirut. The combination of his appearance in the war-effected city transforms it into a not less surreal backdrop. In 2005 Né à Beyrouth discovered the material and presented a version edited with a live soundtrack by Mazen Kerbaj and Sharbel Habr.  

Houna wa roubbama hounak (Here and Perhaps Elsewhere)
Lamia Joreige, 2003, 54 min / Arabic with English subtitles
Joreige's film Here and Perhaps Elsewhere takes us on a journey of remembrance through Beirut as she travels along the former Green Line. At locations that were once crossing-points along the Line, Joreige asked people if they knew of anyone having been kidnapped by the militias during the war.
 
--
The workshops were organized by Daniel Berndt, Elaine W. Ho and Fotini Lazaridou-Hatzigoga, with the kind support of the Anna Lindh Euro-Mediterranean Foundation for the Dialogue between Cultures, the Prince Claus Fund for Culture and Development, the Arab Image Foundation, PROGRAM and HomeShop.
NEWS
x
NOV 2011
rePLACE was invited to participate at the Tracing Mobility Open Platform at Haus der Kulturen der Welt in Berlin, November 26-27.


OCT 2011
Elaine W. Ho of the rePLACE team is in Wuhan, China, from October-December in order to teach a psychogeography workshop of everyday routes through Wuhan at the Architecture Department, Huazhong University of Science and Technology.


SEPT 2011
The rePLACE Beirut and rePLACE Berlin workshop publications have now been published! There are limited copies available, please contact mail[at]re-place[dot]info if you are interested in receiving one.



ÜBER rePLACE
x
Der Vollzug alltäglicher Rituale erfolgt oftmals entlang routinierter Wege durch die Stadt und ergänzt die Wahrnehmung unserer gewohnten Umgebung um narrative und assoziative Elemente. Durch ein komplexes Geflecht aus sozialen Interaktionen und Erinnerungen erleben wir die Stadt als eine dynamische Bühne für öffentliche Interventionen und private Tragödien, geprägt von ungewöhnlichen Ereignissen sowie dem unglaublich Banalen. Die Gewohnheiten und Handlungsmuster ihrer Bewohner, definieren die Stadt als etwas stets Gegenwärtiges, als eine kontinuierlich vom Zufall bestimmte Fluktuation.

rePLACE Berlin betrachtet die Stadt als einen aktiven, mit unserem Alltag verknüpften Prozess der Dokumentation von Zeit und Raum. Mit Ihrer Teilnahme soll ein alternativer und kollektiver Entwurf davon geschaffen werden, wie die Stadt im wörtlichen
und übertragenen Sinne vibriert, indem das typische oftmals kommerziell vermarktete Image und Profil der Stadt um die individuellen Erfahrungen, Erlebnisse und Erinnerungen ihrer Einwohner ergänzt
wird.

Alle Einwohner Berlins können an rePLACE teilnehmen, indem sie eine alltägliche Route einreichen und deren Ablauf sowie die Besonderheiten dieses Weges darlegen. Sie können dazu einfach eine Wegstrecke sowie dazugehörige Texte, Bilder, Videos oder Soundaufnahmen, die den Ablauf der Strecke und die dabei gemachten Beobachtungen und Entdeckungen dokumentieren, auf die rePLACE Webseite hochladen. Sie können aber auch einer bereits existierenden, von jemand anders zur Verfügung gestellten Strecke folgen und auf diese Weise den Spuren eines Fremden folgen und die Stadt aus einem neuem Blickwinkel entdecken.
Durch die verschiedenen Phasen des Projektes hindurch sucht rePLACE Berlin einen Weg aufzuzeigen, die Stadt nicht nur als bebauten Raum, sondern vielmehr als einen lebendigen Organismus zu verstehen, der durch die Interaktionen ihrer Bewohner geprägt ist. Dabei soll vor allem das konventionelle Image der Stadt hinterfragt werden, das auf einer kontinuierlichen Historisierung und deren Darstellung basiert. Während kommerziell buchbare Touren dazu tendieren, die Stadt auf eine handvoll berühmter Bauwerke und Sehenswürdigkeiten zu reduzieren, lädt rePLACE Berlin dazu ein, Berlin auf den alltäglichen Wegen ihrer Bewohner zu erkunden und die dabei gewonnenen Eindrücke und Erlebnisse zu dokumentieren und zu teilen. Während sich fortlaufend Überschneidungspunkte der Routen entwickeln, wird die Stadt als Netzwerk gelebter Erfahrungen neu definiert und das "Stadtbild" dadurch, dass die Stadt in ihrem stetigen Wandel betrachtet wird, revitalisiert.
--
rePLACE wurde 2007 von PROGRAM und Transit Lounge initiiert. rePLACE BERLIN und rePLACE BEIRUT werden 2011 von der Anna Lind Foundation, dem Prince Claus Fund for Culture and Development, der Arab Image Foundation und PROGRAM unterstützt. rePLACE BEIJING wird von HomeShop unterstützt. Für mehr Informationen, senden Sie uns bitte eine E-Mail an: mail[at]re-place[dot]info


WORKSHOP
x
Zwischen dem 18. und 26. Juni hat rePLACE einen Workshop organisiert, der sich intensiv mit den von den rePLACE BERLIN-Teilnehmern eingereichten Wegstrecken auseinandergesetzt hat. Die gesammelten Routen und die dazu gehörigen Geschichten bildeten den Ausgangspunkt dafür, die Stadt im Rahmen einer umfassenden visuellen und historischen Untersuchung entlang der alltäglichen Wege ihrer Bewohner (neu) zu entdecken. Die Workshopteilnehmer haben den eingesandten Wegstrecken gefolgt und ihre dabei gemachten Beobachtungen und Erlebnisse mittels Fotografie, Video- und/oder Soundaufnahmen dokumentiert. Zudem haben spezifische Punkte ausgewählter Wegstrecken die Richtung weiterführender Recherchen bestimmt.



--
Die Workshops wurden von Daniel Berndt, Elaine W. Ho und Fotini Lazaridou-Hatzigoga organisiert, mit der freundlichen Unterstuetzung von der Anna Lindh Euro-Mediterranean Foundation for the Dialogue between Cultures, dem Prince Claus Fund for Culture and Development, der Arab Image Foundation, PROGRAM und HomeShop.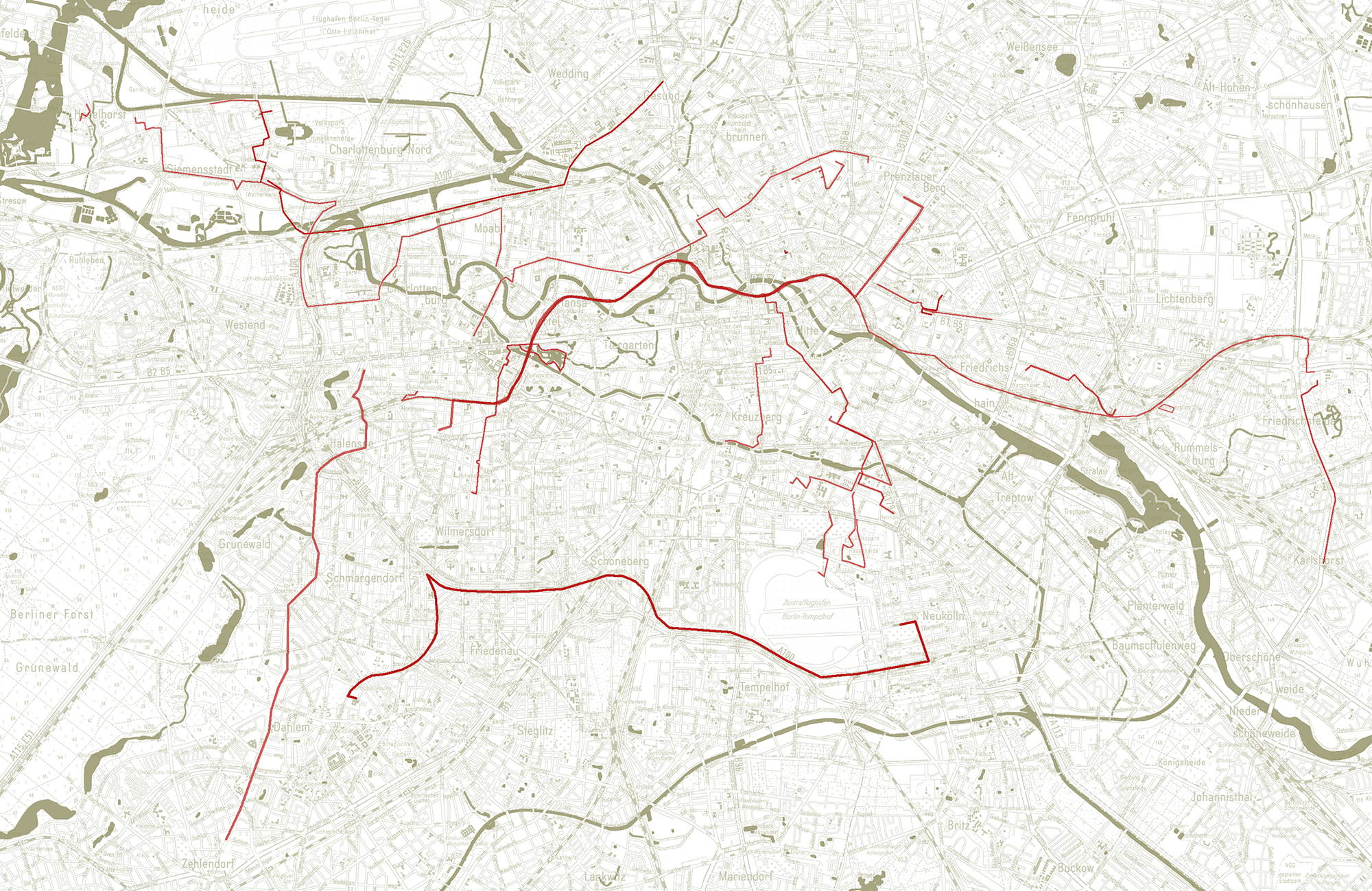 SUBMITTED ROUTES
Familienweg
10-20min, usually on bike, 5 days a week
1km radius
time varies, on foot & wheelchair, daily
OM
each time a bit longer, on foot, almost everyday
AH
10-15 min, by bike, daily
Buchgarten
3 hours, on foot (summer) or bus (winter), once a week
Lichtenberg
15 min, on foot, daily
Home - work - studio
30 min, by bike, daily
The way to hell
10-15 min on foot or 2-3 min by car, daily
Zum Shawarma Laden
35-60 min, by car, twice a week
Kumpelweg
2 min, on foot, 4 times / week
Arbeitsweg
50 min, by S-Bahn, workdays
Zu unserem eigenen Laden
25 min, on U- & S-Bahn, daily
home to work
1 min, on foot, 5 times / week
ACK
7 min, by bike, once a week
home to work
30 min, by foot, bus and train, 3 times / week
Plappern
25 min, on foot, 1-2 times / week
DS
15-30 min, by car, 3 times / week
HP
10 min, on foot, once a week
FG
3 min, on foot, once a week
DB
40 min, on foot, U&S-Bahn, not so often anymore
CN
60 min, on bicycle, once a week
Park Walk
40 min, on foot, 3 times / week
AUG
45 min, on foot, tram & S-Bahn, 2-3 times/week
KH
10-25 min, on foot or bicycle, daily
JR
20-30 min, bicycle, daily
DP
20 min, tram & on foot, often
AP
25 min, on foot, almost daily
FL
15 min, bicycle, daily
JK
20-25 min, bicycle, 5 times/week
KR
15-20 min, bicycle & on foot, twice a monht
MM
20 min, car, daily
CC
45 min, S&U-Bahn, 5 times/week
JN01
2-5 hours, on foot, 3-4 times/week
KP
10 min, on foot, daily
WT
30 min, bicycle, once a week
JJ
20 min, on foot, weekly
JN02
15-20 min, on foot, 1-2 times a week
IL
30 min, bicycle, workdays
AX
1 hour, on foot, sometimes
TC
35 min, S&U-Bahn & on foot, daily
AL
40 min, S&U-Bahn, daily
CR
30 min, bicycle, 1-2 times/week
PM
15 min, on foot, 5 times/week
RC
1 hour, S-Bahn, monthly